Gifts can make anyone happy. And specific gifts like gold jewellery can be even more meaningful.
But the best part of gold is that it holds sentimental values. Since many people don't buy gold regularly for themselves, you can show that you care about them by going the extra mile to gift them with gold. Gold is also timeless and durable, so it can be passed from one generation to another.
Whether you are searching for a gift with sentimental value or want something that will last for long, gold is the best gift! Gold is a versatile item that can be used in jewellery, watches, perfumes, and many other products. 
This post will show you why gold makes such a great gift. So stick with us and read on.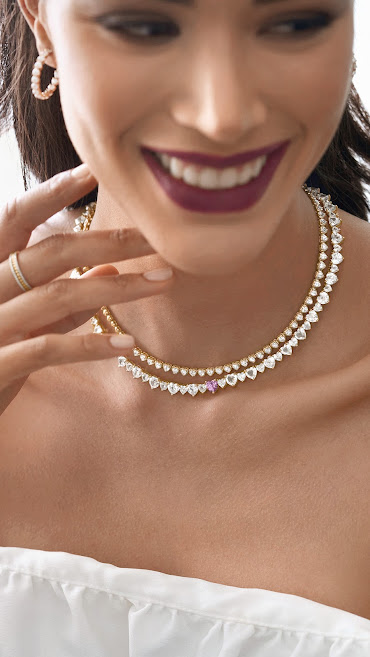 1. People don't buy gold regularly
Contrary to things like food or clothes, people don't buy gold regularly. This is why when you give gold, it can be very special and unique for most people.
Many people have a habit of taking out some budget and treating themselves at least once in a while. However, their self-care gifts usually include bags, food, clothing, coats, or books. Things such as gold are usually not the priority of many people because it's considered a luxury and expensive.
Unless they have an extra budget or a crazy obsession with gold, they will not spend too much on gold. This is why if you give gold to someone, they are likely to consider it as a special gift.
2. Gold has sentimental value
Practically, you can gift any item. But items like gold have extra sentimental value compared to other items.
There are various types of jewellery items you can find out there. However, gold jewellery shows that you have gone the extra mile to make the person happy. Jewellery also holds sentimental values because it shows monumental periods in people's lives like graduations, births, engagements, and weddings.
Because of the value involved, jewellery also requires great effort and time to be bought. 
For example, gifting a gold necklace with your loved one's zodiac sign shows that you put in some thought to get the gift instead of randomly picking the first thing you saw.
Accordingly, gold can be very meaningful and sentimental.
3. Gold is timeless
Good quality gold jewellery can maintain its elegant look for 10 to 30 years. Think about all the gifts you've received over the years. If you have ever received gold jewellery, it will always come to your mind.
Clothes can rip apart or get stained, and food items have a very short lifespan. But gold is something your loved one can wear for years without getting old.
Gold jewellery can even be transferred from one generation to another. Additionally, there are various ways to style with gold, ensuring that it never gets irrelevant.
4. Gold is a significant investment
Gold is one of the few gifts that can actually appreciate over time and double as an investment.
When buying a gift, we usually think of what the person will like in the present instead of thinking about their future. While there's no harm in thinking like this, gold certainly has an edge as your loved one can enjoy it in the future as well.
Gold prices tend to vary from time to time. If you gift someone, let's say, a gold ring, they can wear it for years and eventually sell it off at a higher price.
On the other hand, there are ways to protect gold through insurance plans. In this way, if you accidentally misplace gold or it's stolen, insurance can help cover the cost.
5. You can give gold to people of all ages
Everybody appreciates gold regardless of their age. One of the most difficult things to do is to find an age-appropriate gift. But if you decide to gift gold, you can find something that fits the needs of everyone. 
Gold appeals to every generation, from adorable gold bracelets for kids and gold necklaces for teenagers to gold rings for middle-aged adults.
6. You can also gift gold regardless of the occasion
Be it Christmas, wedding anniversary, or birthday, gold can be gifted on any occasion. Gold saves you from the hassle of thinking over and over again about what you can gift on any particular occasion.
Gifts such as clothes are suitable for occasions like birthdays. But when it comes to a wedding anniversary, something more meaningful than clothes or perfumes is preferred. The same is with events like Christmas or Valentine's Day that celebrates the spirit of love.
Gold fits all types of occasions such as engagements, bridal showers, birthdays, anniversaries, a new job, promotion, a new home, graduation, or just a thank you gesture.
7. There are tons of gold items available
Gold is a versatile metal that we can use in various items. But the most common way to use gold is to make it into jewellery.
From rings, bracelets, and earrings to necklaces and chokers, gold is very common in jewellery items. Besides this, gold pendants are also quite popular.
If you want to get a unique gift, you can even opt for gold-plated items like perfume, watches, and ornamentals.
Are you looking for an outstanding gold necklace? Find an elegant gold necklace with diamonds in our shop.
8. You can customise gold items
Nothing gets better than a customised gift. They show that you really care about the person and know what they like. You can inscribe names, get special messages written, or even get an item made according to your preferred design.
Although most gold items already seem perfect in many cases, you can go the extra mile and get them personalised. 
For instance, at Aquae Jewels, you can talk to the designer, send them your preferred design, and get a custom 18K gold jewellery. The designer at Aquae Jewels will create a sketch according to the design you send them. They'll then send the sketch for you to approve.
Upon approval, the design is put into production. The manufacturing team uses a 3D mould to cast the 18K gold for the jewel's bold. The artisan then finalises the fine detailing of the jewellery and adds any stones as required before deep polishing and cleaning the piece.
You'll have your customised gold jewellery within 3 business days!
Conclusion
If you want to surprise your loved ones and show that you care about them, then gold is the perfect item to gift them. Gold holds great sentimental value, as it is not something you can pick randomly in a store. Instead, it requires time and effort, making it meaningful.
Gold can also be passed from one generation to another since it lasts for years. In addition, gold also makes a great investment. It can double in value over time. And since gold is not something that people buy regularly, you can surprise your loved ones with a special gift.
If you're looking for the perfect gold gift, head over to Aquae Jewels shop. You will find some of the best gold jewellery and even get a chance to design customised jewellery for your loved ones!