Are you looking to get a gift for someone who loves jewellery for their birthday, graduation, or wedding anniversary?
Finding a perfect idea for a gift in the form of jewellery can be overwhelming, especially if the recipient loves jewellery and owns a lot of it or has a very refined taste. However, settling on the perfect jewellery gift can be a no-brainer with the proper guidance.
In this post, we share the five best jewellery gift ideas for someone who loves jewellery. From classy necklaces to trendy anklets, the ideas will enable you to make the right gift choice. So, these are the jewellery ideas to gift your special someone today or during their important occasion: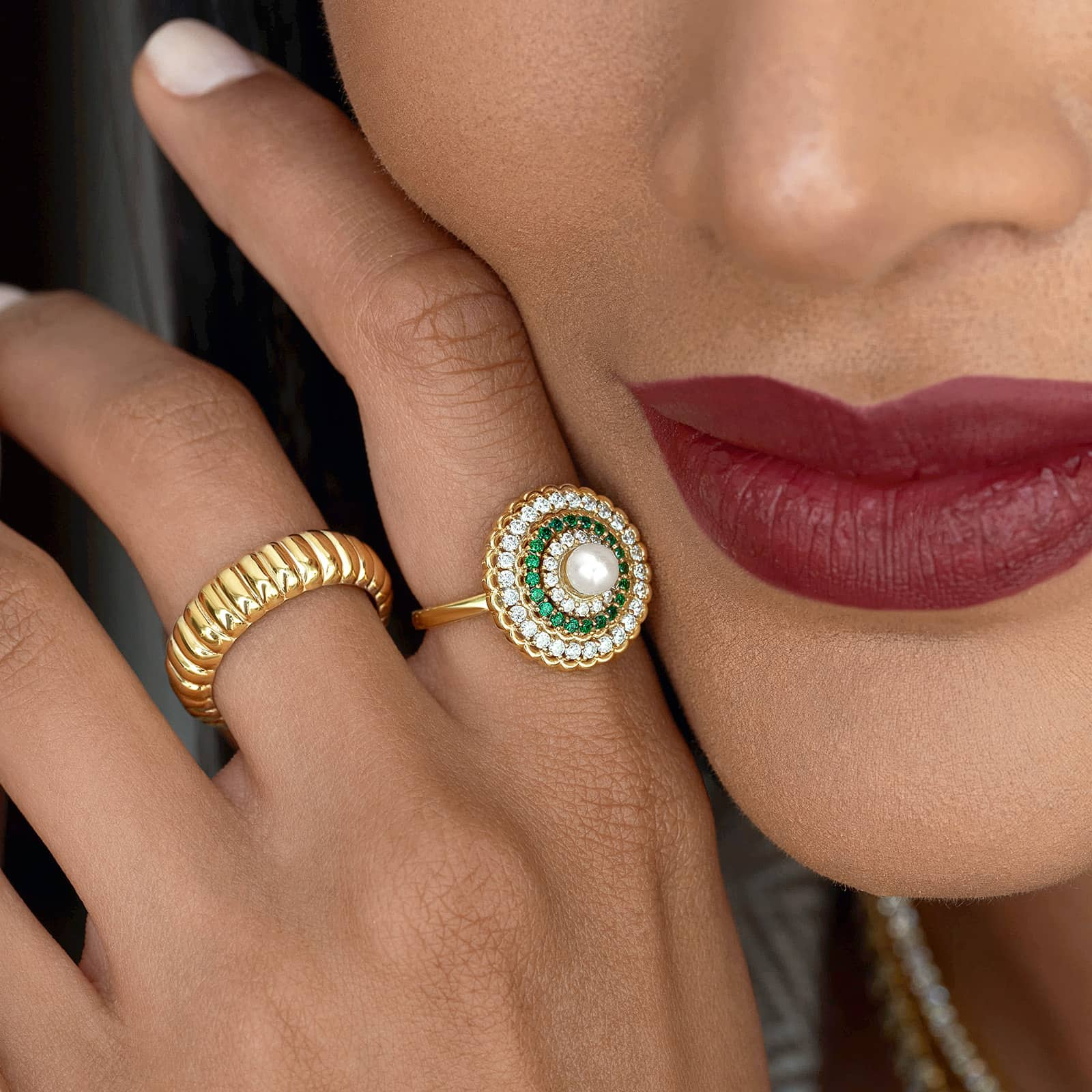 1. Necklace
2. Bracelet
3. Ring
4. Earring
5. Anklet
Let's agree that going to the shop or market to get that ring or necklace for your loved one isn't an easy thing to do. You need to see the joy and not disappointment show on their face when they open the gift. That's why we wish to dive in right away and discuss each of the above ideas so that your work of finding that special gift is a seamless affair.

Trust me; you're going to fall in love with the ideas we're sharing with you right here. Read on…

5 Gift Ideas to Give Someone Who Loves Jewellery
Here are our best jewellery ideas that will make your loved ones make a statement everywhere they go.

1. Necklace
A necklace is one of the best ways to entice your loved one. Whether it's a gold, silver, or diamond necklace, be sure it's going to deliver.
A necklace can be a great way to go bold. This piece of jewellery is easier to layer or blend with other types of accessories.
Apart from elongating the neck and the torso, a necklace gives your loved one not just a polished but also a relaxed look. And don't forget the added beauty and the feminine outlook that comes with wearing an alluring necklace.
With various necklaces to choose from, it's possible to be spoiled for choice. You can decide to go for Necklace Arabic Diamonds Letter 18K Gold, Extension Chain 18k Gold, Necklace Zodiac Sign Diamonds And 18K Gold, or Necklace Solitaire Diamond Heart- Cut 18K Gold, just to name a few.
2. Bracelet
Bracelets are ornaments worn for different reasons and occasions. They can be a sign of friendship or any other bond between two people. Some wear charm bracelets, which generally carry a sentimental or personal attachment to the owner.
So, if you wish to gift a friend, lover, or family member, there are many bracelets to choose from, and if you do this right, you're going to make a lasting impression. A gold or diamond bracelet would be a good fit, and even when you're on a budget, a bracelet is going to do wonders. Among fantastic jewellery that you will appreciate seeing your giftee wearing:
Bracelet Britney 18K Gold And Diamonds,
Bracelet Chain Classic 18K Gold,
Bracelet Arabic Love Premium 18K Gold And Diamonds,
and Bracelet My BirthStone 18K Gold.
There are many options to pick from when it comes to getting a bracelet as a gift for anyone you consider special.
3. Ring
Let's say you wish to express your commitment to that special someone; which other way than to do it with a ring? A promise ring, for example, is a perfect way to show your friend that the relationship between the two of you is essential to you and that you intend to keep it. If you're thinking of demonstrating your commitment to your girlfriend or boyfriend and your wish to take your relationship to the next level, there's a unique way to do it. An engagement ring would do in this case.
As you can see, you can never go short of what to get someone who loves jewellery! Some of the gorgeous rings to consider are such as:
Ring Chain 3 Diamonds 18K Gold,
Ring Petite Black Moon & Star 18K Gold,
and Ring You & Me 18K Gold And Diamonds.
In case you'd like to go for Ring Cleopatra Precious Stone 18K Gold And Diamonds- Ruby/Emerald/Sapphire, then that would be amazing. Remember, these are just a few units of the many precious rings to pick from.
4. Earrings
Everyday earrings are among the top ideas when it comes to selecting a gift for your loved one. Remember, earrings come in a variety of versatile designs and with proper selection, you're going to ensure the person who receives your gift achieves a dazzling look whenever they're putting it on. If your loved one is having a special occasion like a graduation party, ensure to find them the right pair. It could also be that it's your special one's birthday.
A pair of gold, diamond, or silver earrings will come in handy. Earrings also work well if you just got into a new relationship and wish to show loyalty and love to your significant other. Whichever message you want to pass to them, there are unique earrings to do so.
Some earrings can be worn as one piece or as a pair. Earrings Stud Marquise 18K Gold And Diamond (Single Piece), for example, is available as a single piece, but in case you wish to get a pair, that would still be great. Other stunning earring selections include Earrings Hoops Biblos 18K Gold And Diamonds, Earrings Empress Precious Stone, 18K Gold And Diamonds with Ruby/Emerald/Sapphire, and more.
5. Anklet
For most gift-givers, an anklet might not be one of those prominent pieces of jewellery they'd consider gifting their loved ones. However, you need to know that an anklet should be a natural option for a gift because of its unique nature. Just like a bracelet would look great when worn around the wrist, an anklet would also look great on your loved one's ankle. In case you've been wondering how to go unique with your gift or get something that's not too obvious, an anklet should be your best bet. Whenever you think about a special gift to give someone who loves jewellery, think about this type of accessory, and you'll never go wrong.
So, don't stress yourself anymore over what to do. Just pick up an anklet and let your loved one shine and gleam every step of their way! This can be any of the many that we have in our vast collection. You can decide Anklet Kareem 18K Gold And Diamonds is good enough. Or you might prefer to give out Anklet Constellation Pearls And 18K Gold, or Anklet 0.10 Carat Diamond Solitaire 18K Gold, on Thread, or even Anklet Odyssey 18K Gold And Diamonds, just to mention a few.
Final thoughts
Quality jewellery lasts for a long time and holds value for the longest time. That's why going the right route when considering gifting your loved one is a fantastic idea. A multi-chain or a gold-shaped necklace could be the kind of gift you're searching for. Or you could even be thinking about an exquisite bracelet, a gorgeous ring, or a gleaming anklet. In short, here's what to get someone who loves jewellery:
1. Necklace
2. Bracelet
3. Ring
4. Earring
5. Anklet
This is the only way to put a lasting impression on your special one and make them remember you whenever they're wearing what you gifted them. Don't forget they say beauty is in the beholder's eye, but remember lasting beauty has something to do with having quality jewellery as part of one's accessories.
What to Do Next…
Put a smile on your loved one's face by getting them a gift from our distinctive assortment of jewellery. This is one of the best ways to let them know how special they're to you. You're going to be glad that you did!